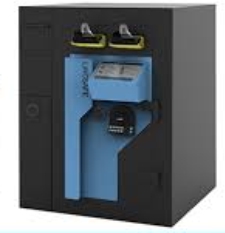 These are the criteria used by our customers when we asked them what they required of a cash deposit system.
LOCATION: Texaco Petrol filling stations
FUNCTIONALITY: Secured money deposit system
SOLUTION: Lincsafe custom build closed cash deposit system
Lincsafe is market leader in development, design, build and delivering of closed-cash deposit systems, known as Intelligent Safes.
The illustrated DUO is an intelligent Safe for back or front office with a capacity of 2 x 1200 or 2 x 2200 banknotes.
The Lincsafe checks and counts the deposited money. Every transaction is recorded in the software and there is real-time monitoring. At a predetermined value in the vault, the cash in transit carrier receives the request to empty the vault and place a new cassette inside. Depending on the chosen service appointment, the bank will pay the money to the customer's account or at the bank's bill. There is no need for any action from the client. On the product page you will find additional information or visit our sister-owned lincsafe website.